I am sharing my ideas for a Winter White Christmas Table Setting. And for more Christmas Table Setting inspiration, pop over to visit some of my friends.
I'll be honest. As a family, I am really not sure that we will be sitting around our dining room table this Christmas. Our primary goal is to share Christmas morning as a family, which I think we have figured out. But, given that my children won't have enough time to quarantine before Christmas day, it seems highly unlikely that we will be comfortable sharing the space around our table.
That being said, they will be home for 14 days over the holidays, so we will postpone our family dinner until New Year's Eve! This year, flexibility is everything.
So, when my friend Maureen from Red Cottage Chronicles suggested that we share our Christmas tables, I jumped right in. Without her suggestion, I may not have taken the time or thought to think about our holiday table. But it was good for me to try to be 'normal' and get lost in the fun of holiday decor.
Be sure to pop over to see how several of my friends have adorned their tables this holiday, as well.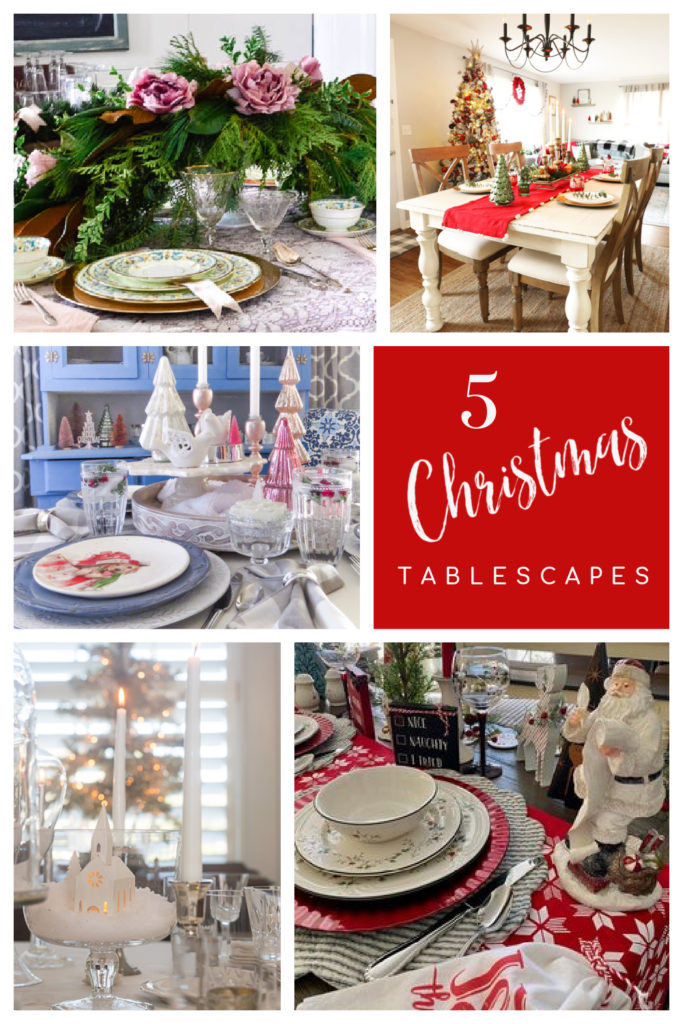 Some of these are affiliate links, and I will earn a small commission off of the sale of these products, but the price you are charged is not affected. You can see my full disclosure policy here.
2020 being the year it is, I am avoiding going to stores at all costs. Except for battery-powered tealights, I decorated my table with items I already had at home. And that was a good challenge for me as well.
What will be the inspiration for your table?
Is there a special Christmas decoration you want to feature this year? What about your color scheme? What are you feeling?
These little mercury glass ornaments that I picked up in Spain last year were the inspiration for my Winter White Christmas Table. In fact, this time last year, we were packing for our trip! Wow, we were so lucky to get that trip in when we did!
I picked up these ornaments at the most charming little store in Barcelona but found that they were a little lost on my big Christmas tree. They were set aside while I pondered their purpose. When I started noodling my table, I knew they would be central to it.
I gathered all my silver and mercury glass paraphernalia, and the table quickly took shape.
A neutral tablecloth and napkins were the perfect backdrop for my table. (BTW…if, like me, your table linen drawers runneth over, pop over to see how I organize my table linens)
I had also recently made a tiny Christmas scene in one of my cloches, which made its way to my table. I used my Cricut to cut and score this little church. Once I started working on my table, I cut out 2 more buildings to add them to two other 'vessels' on the table.
These little houses necessitated the battery-operated tealights, which were perfect to light up the churches and house.
I have 5 little mercury glass votives, which I placed in front of each place setting. Two crystal candlesticks and three silver candlesticks add height to the table. The silver candlesticks are of varying heights, which keeps the table a little asymmetrical, which appeals to me.
In general, I am not a very formal person, but every once in a while, it is nice to bring some formality to our dinners. For our 'dining room' dinners, I make a point of setting the table properly, with the silverware, dishes, and glasses where they are 'supposed' to be.
Because this table is not overtly 'Christmas,' I can easily see leaving it set until closer to New Year's, when we will be able to gather and enjoy our traditional Christmas Day dinner.
To refer back to these ideas for a Winter White Christmas Table Setting, bookmark this page or pin the following image.
And for more Christmas Table inspiration, click the links below:
Five Christmas Tablescapes to Inspire You
HAPPILY EVER AFTER ETC * WEEKEND CRAFT * RED COTTAGE CHRONICLES * NOURISH & NESTLE * CREATE & BABBLE
Thanks so much for spending a few minutes of your busy day with me!
If you want to ensure you don't miss future content, pop your email in the pale green box on the right or click here. I usually send out 2-3 emails a week so that I won't inundate your inbox. I'm sensitive to an overflowing email inbox!
We will only use your email address to send you emails, no more than 1-2 weekly. In addition, you will have access to my growing library of knit & crochet patterns, as well as other printables. Check back often as this library will continue to grow. Please know that you can unsubscribe anytime by emailing me or clicking on the "unsubscribe" link at the bottom of all emails.
And you can access many of the products I refer to on my Nourish and Nestle Amazon Page. You can access it here.
So, if you'd like to get in on the 'subscriber benefit' action, simply subscribe to Nourish and Nestle here or use the form on the right sidebar. It's towards the top a bit.
I have sent all my subscribers the link to the Subscriber Benefits Library. If you missed it or misplaced it, drop me a line.
Until next time…